We've all heard of chauffeur services, but what makes them so unique? And why are Miami chauffeurs essential?
Table Of Contents:
Why Choose a Chauffeur Service in Miami?
The city of Miami, with its vibrant clubs and pristine white sand beaches, is an ideal destination for summer vacations. However, the experience can be significantly enhanced when you choose to explore it via chauffeured service.
Miami offers numerous attractions that are best enjoyed at leisure without worrying about navigation or parking issues. A professional chauffeur service like Limo Services Miami provides not just luxury transportation but also peace of mind during your travels.
Professionalism & Luxury
In this bustling Latin American culture-infused metropolis, navigating through traffic while trying to soak up all the sights could prove challenging even for seasoned travelers. This is where our professionally trained bilingual drivers step in – ensuring punctuality and safety while adding an extra layer of sophistication to your journey.
Beyond professionalism though lies another key aspect – luxury. With an exclusive fleet consisting of state-of-the-art vehicles equipped with top-notch amenities, every ride turns into a memorable part of your vacation.
Safety First
No matter how exciting exploring South Beach's nightlife scene sounds or how tempting visiting Ocean Drive seems; nothing should compromise one's safety, especially when traveling around unfamiliar areas late-night. That is why choosing licensed chauffering services over unlicensed rideshare options makes sense both from a comfort as well as security standpoint.
Riding with professionals who adhere strictly to established safety standards ensures you have worry-free fun throughout your trip. Learn more about their commitment to passenger safety here. So next time plan a salsa music night out or crave some delicious Cuban cuisine remember- travel safe, travel smart.
.
Exploring Miami's Cultural Marvels with Chauffeur Service
Miami – a city teeming with cultural wonders and breathtaking sights. Imagine traversing these marvels in the comfort of an exclusive chauffeur service.

Art Deco District Tour
The Art Deco Historic District on Ocean Drive is one such spectacle that draws globetrotters from every corner. This vibrant neighborhood filled with pastel-hued buildings exhibits architectural styles reminiscent of the 1920s and '30s eras.
A professional chauffeuring service enables you to immerse yourself completely in this experience without fretting over navigation or parking issues. You can recline comfortably while appreciating the intricate details of these historic edifices as your driver skillfully navigates through this iconic district.
Little Havana Experience Escape
If immersing oneself in Latin American culture piques your interest, then Little Havana should be etched onto your itinerary list. From its throbbing salsa music to delicious Cuban cuisine served at local eateries; it offers a genuine taste of Cuba right here in Miami.
Hiring an informed chauffeur not only ensures seamless transportation but also enriches your journey by providing insights into local customs and traditions. Whether it's visiting popular spots like Calle Ocho for some authentic Cuban coffee or attending live performances – having a personal driver makes each moment count while prioritizing safety during your Havana experience escape.
Embracing Nature with Luxury Chauffeuring
Within and nearby the bustling city of Miami, there exists a world that is far removed from its vibrant nightlife and high-rises. This natural paradise can be explored in comfort and style when you choose an exclusive chauffeur service.
Everglades National Park Adventure
The Everglades National Park stands as one testament to this rich biodiversity. It's not just another park; it's a unique ecosystem teeming with exotic wildlife such as rare bird species, alligators, and even elusive Florida panthers.
A professional chauffeur at your disposal ensures that navigating through these vast wildernesses becomes less about worrying over routes and more about soaking up every bit of this once-in-a-lifetime experience.
Key Biscayne Beach Retreat
Miami isn't just known for its urban attractions but also for places like Key Biscayne Beach Retreat which offers pristine white sand beaches surrounded by crystal clear waters – perfect for those seeking some tranquility amidst their busy travel schedule.
Your trip back after enjoying South Beach's vibrant clubs or indulging in delicious Cuban cuisine will be hassle-free if you have an experienced driver waiting nearby ready to whisk you away into a comfortable luxury vehicle while still reminiscing beautiful sunset views witnessed earlier day.
Reputable Miami chauffeurs will assist in planning the ideal itinerary, ensuring each visit aligns perfectly with your preferences, whether heading out for salsa music in Little Havana or visiting Ocean Drive during summer vacations.
Remember, there are numerous options available for choosing transport services within the city limits – none, however, match the level of sophistication offered by our Limo Services in Miami. So why wait? Book now and start creating unforgettable experiences today.
Key Takeaway: 
Discover Miami's natural beauty and urban charm in style with exclusive chauffeur services. From exploring the rich biodiversity of Everglades National Park to relaxing at Key Biscayne beach retreat, your experience is enhanced by hassle-free travel. With Limo Services Miami, it's not just about luxury transportation—it's about creating unforgettable experiences.
Unforgettable Nightlife Experiences with Chauffeuring Services
Miami, a city that truly comes alive after sundown, offers an unforgettable nightlife experience. This already vibrant scene can be elevated to new heights of luxury and convenience when paired with a chauffeur-driven limousine or party bus service.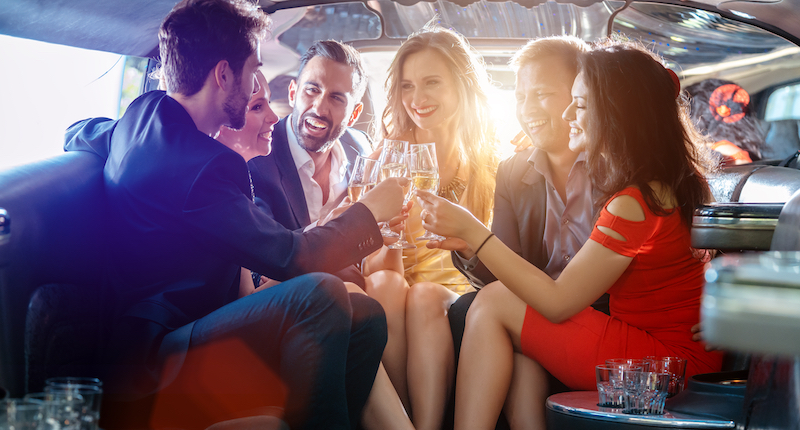 South Beach Nightclub Experience
In the heart of Miami lies South Beach, a neighborhood renowned for its pulsating energy as night falls. It's here where you'll find trendy bars perfect for unwinding over cocktails and high-energy dance clubs that resonate with beats designed to make your heart race.
Hiring personal transportation in the form of exclusive chauffeur service not only ensures safety during these late-night outings but also eliminates common concerns such as parking space availability or navigating unfamiliar streets post-celebration. The famed LIV at Fontainebleau nightclub is one such venue where transport and parking worries should never mar your exhilarating experience.
Adrienne Arsht Center for Performing Arts
If cultural experiences are more up your alley, then the Adrienne Arsht Center for Performing Arts may pique your interest. As a distinguished performing arts center hosting shows all year round – from Broadway musicals to ballet performances and concerts featuring world-class musicians – it promises enriching evenings out on the town.
A professional chauffeur service isn't just about ensuring timely arrival; it also takes care of departure logistics so you can focus entirely on savoring every moment without distractions like worrying about finding parking spaces or battling traffic once the show ends.
This way, whether attending symphonies at Knight Concert Hall within the Adrienne Arsht Center complex or enjoying comedy shows at Carnival Studio Theater, each minute spent becomes memorable. Limo Services Miami, known widely across the city, provides this seamless transition between entertainment venues, making sure clients enjoy stress-free nights filled with culture and fun.
Key Takeaway: 
Experience Miami's vibrant nightlife and cultural scene in a new light with chauffeur services. From pulsating South Beach clubs to enriching performances at the Adrienne Arsht Center, eliminate transport worries and focus solely on savoring each unforgettable moment.
FAQs in Relation to Miami Chauffeurs
What is the point of a chauffeur?
A chauffeur provides professional, personalized transportation services. They ensure safe and comfortable journeys, allowing passengers to relax or focus on other tasks during transit.
What is the history of chauffeurs?
The term "chauffeur" originated in France and referred to stokers who maintained steam engines. With the advent of automobiles, their role evolved into driving luxury vehicles for wealthy individuals or businesses.
What do chauffeurs do while waiting?
Chauffeurs often use waiting time to clean and maintain their vehicles, plan routes for upcoming trips, or stay updated with traffic conditions. They may also take short breaks as needed.
Conclusion
Exploring Miami in luxury is an experience like no other.
Miami chauffeurs take this exploration to a whole new level of comfort and style.
You've learned about the professional, bilingual drivers who navigate you through the city's cultural marvels with ease and elegance.
We've delved into how these services offer safety and convenience that surpass regular transportation options.
The vibrant Art Deco District, the lively Little Havana, or the tranquil Key Biscayne Beach Retreat – all become more enjoyable when explored with a chauffeur service.
Nightlife experiences are enhanced too; be it South Beach's legendary clubs or cultural events at Adrienne Arsht Center for Performing Arts.
Now imagine making your vacation unforgettable with exclusive chauffeuring services. So why wait? Make your next trip to Miami luxurious and memorable by choosing our premier limousine services at Limo Services Miami. Book now!