Ever thought about the magic that a single photo can hold? A snapshot from Miami, with its unique blend of cultures, vibrant art scene, and iconic landmarks, tells more than just a tale. It's an invitation to explore this magical city for yourself.
Capturing the essence of Miami's distinctive charm, exploring her colorful Art Deco buildings on Ocean Drive or snapping pics at trendy Instagram spots in South Beach are experiences beyond compare. Picture yourself standing amidst street art at Wynwood Walls or striking a pose outside the Fendi Store in Miami Design District – it's not hard to see why these places are top Instagram-worthy spots in Miami.
Get ready to take a scenic trip through Miami's most picture-perfect spots. We're hitting up famous places like Casa Florida and Faena Hotel, but also uncovering secret treasures like Broken Shaker.
Table Of Contents:
Miami's Most Instagram-Worthy Spots
Ready to level up your social media game? Let Miami be your muse. The city is teeming with vibrant and Instagram-worthy spots. From the sun-kissed beaches of South Beach to the eclectic art scene in Design District, each corner offers a snapshot into Miami's unique culture and style.
Capturing the Essence of Miami's Unique Culture
Miami's cultural charm is deeply rooted in its diversity. To get that perfect shot reflecting this blend, stroll around Little Havana or Calle Ocho where colorful murals depict stories from diverse communities living here. The food trucks offering Cuban sandwiches also make for a great photo op.
The Faena Hotel on Collins Ave has become an icon thanks to its stunning interiors and flamboyant aesthetics – definitely one of those must-visit Instagrammable places. Don't forget to snap a pic at Casa Florida either; it perfectly captures the spirit of Miami with lush tropical gardens against retro pink architecture.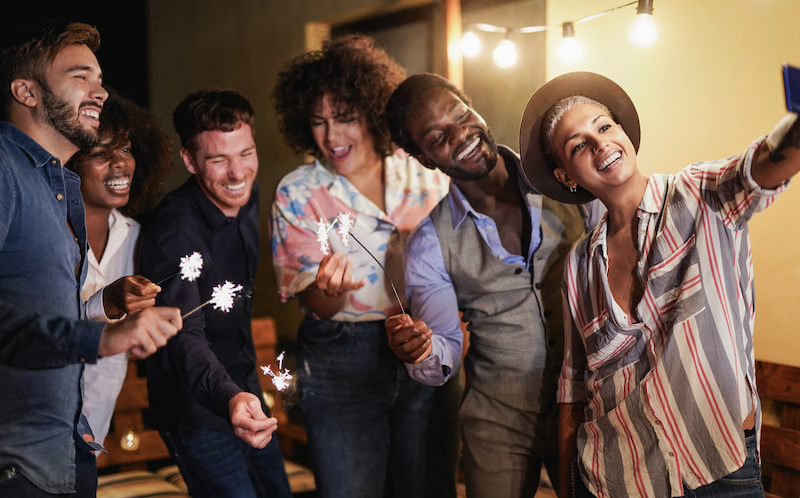 Exploring the Vibrant Art Deco and Modern Art Scene
If you're an art enthusiast looking for that aesthetic edge, Ocean Drive in South Beach will give you just what you need. Known as the heartland of Art Deco design, it boasts pastel-colored buildings flaunting geometric patterns – ideal backdrops for some eye-catching photos.
You'll find more contemporary expressions down Biscayne Blvd at Pérez Art Museum which hosts dynamic modern art installations. The Design District is another gem where the Fendi Store and DBakers Sweet Studio compete for your attention with their cutting-edge designs.
While landmarks like the Biltmore Hotel are a go-to, South Beach has its own share of hidden gems too. From lush courtyards at Broken Shaker to vintage vibes at Berry Farm – each spot offers unique backdrops to make your Instagram feed pop.
You can't say you've fully visited until you've taken a photo with Buckminster's Fuller Fly.
Key Takeaway: 
Get ready to make your Instagram pop with Miami's diverse and vibrant spots. Capture the city's cultural blend in Little Havana, enjoy art deco designs on Ocean Drive, or snap a photo at Casa Florida for that perfect tropical vibe. Don't miss out on hidden gems like Broken Shaker and Berry Farm.
Exploring Iconic Landmarks in Miami Beach
Miami Beach, a municipality renowned for its vivid nightlife and beaches bathed in sunshine, also houses an array of distinguished landmarks. These places not only embody the city's rich history but also provide picturesque backdrops perfect for Instagram posts.
The Heart of Art Deco District – Ocean Drive
Ocean Drive is synonymous with Miami Beach. It's the heart of the famous Art Deco district, where pastel-colored buildings from the 1930s line up against azure skies. This historic street provides endless photo ops at every turn, making it one of Miami's most instagrammable spots.
You can take photos in front of Casa Florida or pose near neon-lit establishments like The Biltmore Hotel that beautifully preserve their vintage charm. But remember, don't just snap pics; immerse yourself in these locales' stories as they echo tales from a bygone era.
Colorful Lifeguard Stands on the Beach
Beyond Ocean Drive, there are more unique structures that make your pictures pop: lifeguard stands. Yes, you read it right—Miami Beach's lifeguard stands aren't merely functional—they're art pieces designed with such flair that they've become part and parcel of this seaside cityscape.
Each stand boasts distinctive designs infused with lively colors reflecting Miami's multicultural vibe—a contrast to the white sands beneath them—it makes even mundane moments feel magical. Plus capturing sunset hues over these huts gives your photos a dramatic twist sure to get likes flowing.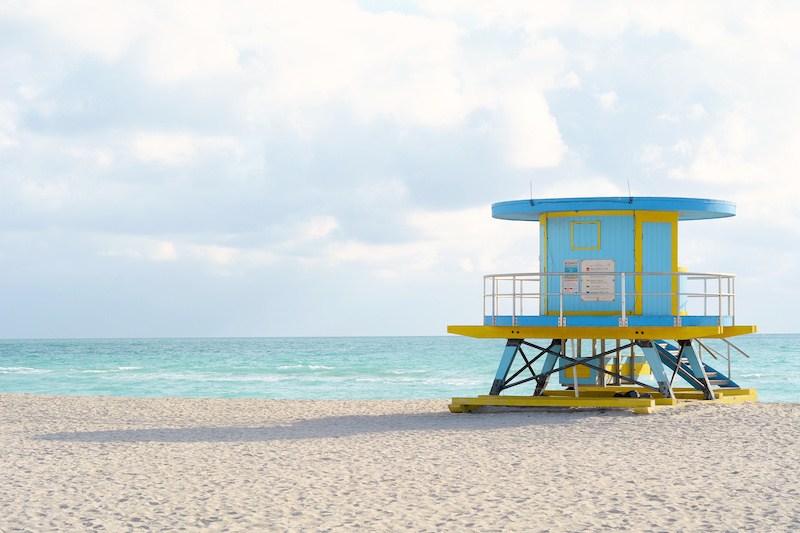 Faena Hotel Miami Beach
Then there's the Faena Hotel on Collins Ave. Known for its opulent interiors and exteriors, it serves as a glamorous backdrop to your Instagram feed. Whether you're posing by its iconic red velvet outdoor area or capturing reflections off a golden mammoth skeleton—an art installation—it's impossible not to be enchanted.
Key Takeaway: 
Get ready to spice up your Instagram feed with Miami Beach's iconic landmarks. From the pastel-colored buildings of Ocean Drive, the heart of Art Deco District, to unique art-infused lifeguard stands and the opulent Faena Hotel—each offers stunning backdrops that tell tales from a vibrant city brimming with history and culture.
Unveiling Artistic Side in Miami's Design District
Miami's Design District is a canvas for the city's creative expression. It blends art, architecture, and fashion into an eclectic mix that will give your Instagram feed a vibrant makeover.
Street Art at Wynwood Walls
An outdoor gallery like no other, Wynwood Walls showcases vibrant murals from artists around the globe. These stunning works of street art capture diverse themes and styles which are always changing – making every visit unique.
The neighborhood is also home to Pérez Art Museum Miami (PAMM), offering visitors breathtaking waterfront views alongside modern and contemporary art exhibits. So make sure you don't miss this artistic gem when exploring the district.
Unique Design of Museum Garage
Intricate yet functional – welcome to the captivating design of Museum Garage. This architectural marvel houses cars while serving as one of Miami's most intriguing photo spots.
This seven-story structure is known for its wacky façade designed by five different architects. Yes, you read it right; each level has its own theme providing endless possibilities for snaps. No wonder it often pops up on feeds under #MiamiDesignDistrict.
Fashion Meets Architecture: Fendi Store
Beyond art installations and galleries, the design district hosts some incredible boutiques including Fendi Store Miami. With its avant-garde design inspired by flowing waterfalls & Roman ruins fused with Florida's tropical charm, it's not just a store but an architectural masterpiece.
Its façade creates an eye-catching effect that looks different from every angle. Make sure to grab a snap pic of this structure for your Instagram story.
Sweet Tooth Satisfaction at DBakers Sweet Studio
Art isn't just hung on walls or tucked inside buildings. Sometimes, art is prominently displayed.
Key Takeaway: 
Experience Miami's Design District, a hotspot of creativity blending art, architecture, and fashion. Explore the vibrant murals at Wynwood Walls or enjoy modern exhibits at Pérez Art Museum. Don't miss snapping unique structures like Museum Garage and Fendi Store Miami. And finally, satisfy your sweet tooth at DBakers Sweet Studio.
You may believe you've explored all South Beach has to offer, yet there are still secluded gems waiting to be revealed. Picture-perfect spots that will elevate your social media game.
Tropical Vibes at Broken Shaker
Broken Shaker, nestled in the Freehand Miami Hotel, is an oasis amidst the hustle and bustle of city life. This outdoor cocktail bar is teeming with lush greenery which makes it a perfect spot for a tropical-themed snap pic. Sip on one-of-a-kind craft cocktails as you pose amongst potted plants and twinkling fairy lights.
Vintage Charm at Berry Farm
Berry Farm takes us back to simpler times with its vintage charm. Its vibrant produce stands offer an unexpected yet colorful backdrop for any photo op. But don't just stop at taking photos; make sure to sample their fresh fruits or homemade smoothies.
The Eye Dome: A Unique Marvel
Next up is Buckminster's Fuller Fly's Eye Dome – yes, you read that right. The Eye Dome, located in Palm Court Plaza, offers an out-of-this-world photo opportunity thanks to its unique design featuring numerous circular openings – almost like looking through a fly's eye.
The Big Pink: An Iconic Eatery
No trip would be complete without visiting The Big Pink restaurant on Collins Ave. Known for its extensive menu (we're talking over 200 items.), this place isn't just about the food. The restaurant's pink exterior provides a pop of color that screams 'Miami' – and makes for an awesome Instagram post.
Frost Museum of Science
For those seeking the perfect backdrop for their Instagram feed, a limo ride to Miami's Frost Science Museum is an absolute must. This world-renowned museum offers breathtaking views and unique exhibits that are sure to make your followers green with envy.
The Frost Science Museum stands as a testament to the beauty of science and innovation. With its stunning architecture, interactive exhibits, and awe-inspiring aquarium, it provides countless opportunities for eye-catching photos. Imagine capturing a shot in front of the suspended 500,000-gallon Gulf Stream Aquarium teeming with sharks and tropical fish or snapping a selfie while exploring cutting-edge technology in the Feathers to Stars exhibit.
Enhancing Your Experience with a Limo Tour in Miami
A tour of Miami's most Instagram-worthy spots is an experience to cherish. But, why not take it up a notch? A limo tour around the city can give you just that – luxury and convenience wrapped into one memorable ride.
The Luxury Element: Why You'll Love It
Experience the sensation of luxury and relaxation as you ride in opulent splendor. In the plush interiors of our premium limos, you're not only comfortable but pampered too. Imagine sipping champagne while cruising down Collins Ave or taking stunning photos against neon lights reflected on polished car windows.
Moreover, our fleet doesn't compromise when it comes to safety standards either. We make sure your travel through Magic City remains as smooth and worry-free as possible so that capturing those perfect moments becomes your only focus.
Sightseeing Made Convenient: No More Hassles
Limos aren't all about extravagance though; they offer unmatched convenience for sightseers like yourself. Navigating through bustling streets can be quite daunting if you're new to town or have limited time at hand.
Let us take the stress away and provide you with a convenient tour of this bustling city. Our experienced chauffeurs know every nook and corner of this vibrant city – from famous landmarks like Faena Hotel Miami Beach or Frost Science Museum to hidden gems tucked away amidst modern art installations.
Capturing Memories Without The Rush
How many times have you wished for extra minutes at a photo op spot? With us driving, there's no need for hurried clicks anymore. Whether it's snapping pics against street art backdrops on NE St., posing by Bachour Miami's sweet studio treats, or getting candid shots inside our luxurious cabins – take all the time you need.
We understand the importance of getting that perfect Miami photo for your Instagram feed, and we're here to help you achieve just that.
Experience Miami Like Never Before
We've crafted our limo tours to give you a fresh look at Miami. We don't just hit the usual spots like Ocean Dr., Pérez Art Museum, and Biltmore Hotel.
Key Takeaway: 
Amplify Your Miami Tour: Enjoy the luxury and convenience of a limo tour through Miami's Instagram-worthy spots. Not only will you travel in style, but also have unrushed moments to capture perfect photos. With our experienced chauffeurs at the wheel, navigating busy streets becomes hassle-free as they know every corner of this vibrant city.
Perfecting Your Instagram Game in Miami
Taking your Instagram game to the next level requires more than just snapping a picture and posting it. To make sure you capture the best photos, let's delve into some handy tips and techniques.
Utilizing Natural Lighting
Natural light can be your best friend when shooting for Instagram. It helps create vibrant colors that pop out on screens, especially in sunny places like Miami. Always aim to shoot during golden hours – early morning or late afternoon – for soft shadows and warm hues.
The neon lights of Ocean Drive at night also offer an intriguing mix of shadow play and bold color contrasts. But remember, too much darkness can result in grainy pictures; so balance is key.
Mastering Composition Techniques
To add depth to your photos, use leading lines such as sidewalks or shorelines. They guide viewers' eyes towards specific parts of the image.
Framing is another technique that gives structure to your photo while drawing attention to a focal point. You could frame a shot with palm trees around Art Deco buildings on Collins Ave or through stunning art installations at Pérez Art Museum Miami.
Capturing Authentic Moments
Miami is brimming with culture – from street performers along Biscayne Blvd to vibrant murals in Wynwood Walls – these moments tell stories about our city's rich diversity. Wynwood Walls, known globally for its dynamic street art provides countless opportunities for capturing authentic shots infused with local flavor.
So instead of simply posing against backdrops try documenting candid moments as they unfold.
Creating a Cohesive Feed
A cohesive feed can help you stand out on Instagram. Choose a color scheme or theme and stick to it. For example, if your aesthetic is pastel colors, the Art Deco buildings along Ocean Drive or sweets from DBakers Sweet Studio could make perfect additions to your feed.
Key Takeaway: 
Boosting your Miami Instagram presence goes beyond just snapping and sharing. Chase natural light for lively photos, targeting those golden hours or Ocean Drive's neon-drenched evenings. Employ elements like leading lines and framing to bring depth – think sidewalks, coastlines, and palm trees. Showcase the city's vibe through spontaneous snapshots at Wynwood Walls or along Ocean Drive.
FAQs in Relation to Instagram-worthy Spots in Miami
Where can I take pictures in Miami?
Miami is teeming with photo-worthy spots. Try Ocean Drive, Wynwood Walls, or the Design District for some striking snaps.
Where is the top Instagram location?
The Wynwood Walls is a must-visit. It's an outdoor gallery showcasing vibrant murals from artists worldwide – perfect for Instagram.
Where is the best view in Miami?
To soak up stunning views of Miami, head to South Pointe Park Pier. The skyline and ocean vistas are unbeatable there.
What is the most popular part of Miami?
South Beach tends to steal the show with its iconic landmarks, pristine beaches, and vibrant nightlife scene that attract visitors year-round.
Conclusion
Unlocking the beauty of Miami is now in your hands. With a mix of vibrant cultures, artistic flair, and stunning landmarks, you've discovered Instagram-worthy spots in Miami.
The iconic Ocean Drive has charmed you with its historic architecture while unique structures like lifeguard stands added color to your beachside snaps.
You've embraced the city's creative side at Wynwood Walls and marveled at Museum Garage's captivating design. And South Beach's hidden gems? They're no longer secrets!
Tropical vibes from Broken Shaker or vintage charm from Berry Farm – all these make up the perfect elements for an unforgettable photo journey.
Remember, every corner of this city holds potential for that perfect shot. So get out there, explore more, snap away, and let your Instagram feed tell tales of beautiful Miami!