Ever fantasized about diving into the vibrant culture of Miami? With its rich history, breathtaking natural beauty, and iconic Art Deco buildings lining up the streets – this dynamic city is a true gem waiting to be explored.
A world within itself, Miami boasts an array of attractions that could easily overwhelm any traveler. So where should you start? How do you distill it down to ensure not missing out on anything worthwhile?
This guide unveils the Top 10 Must-Visit Attractions in Miami, curated with care from countless possibilities! We're talking turquoise waters at South Beach, immersive art displays at Wynwood Walls, lush landscapes in Everglades National Park, and more.
With a bucket list so well-crafted, your journey through South Florida's top vacation spot will feel as smooth and exciting as cruising down Ocean Drive.
Table Of Contents:
Uncover Miami's Top 10 Must-Visit Attractions
Plunge into Miami's vibrant culture, its history and its scenic beauty by visiting the top 10 attractions of this bustling city.
The Sun-Kissed Shores of South Beach
Known for its turquoise waters and lively atmosphere, South Beach is a must-see attraction that encapsulates the quintessential Miami experience. A walk along Ocean Drive lets you admire Art Deco buildings while enjoying the sea breeze. This hotspot is one of Florida's premier vacation destinations with great weather year-round.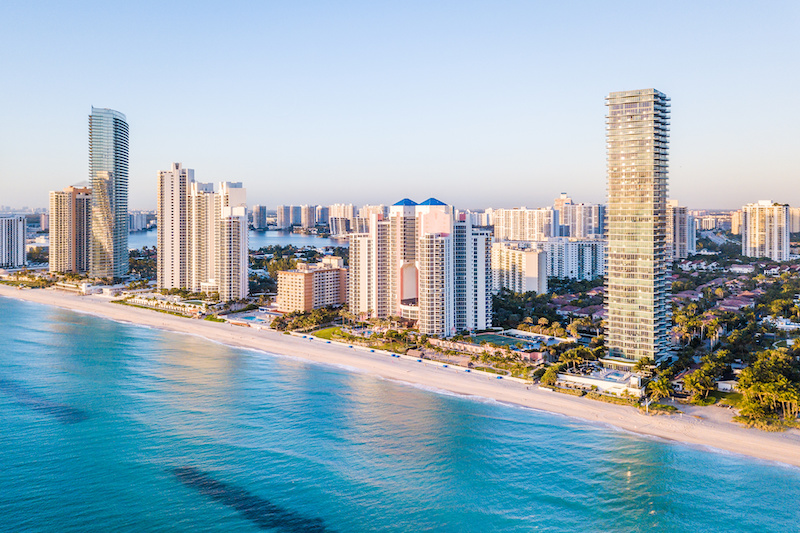 The Historic Vizcaya Museum and Gardens
Step back in time at this bayfront mansion modeled after European castles, boasting ornate gardens and art collections. Don't miss out on the beautiful views overlooking Biscayne Bay outside.
The Eclectic Wynwood Walls
Explore an outdoor museum showcasing urban art through a large collection of permanent murals. Inspiring creativity since their inception during Art Basel 2009, they've become an integral part of Miami's Design District scene now.
Miami attracts more international visitors than any other US city except New York City; we believe our Magic City can even overtake them soon. But hey, who are we to say so?
Embrace the Vibrant Culture at Little Havana
Cuba's essence can be felt right here in Miami, thanks to Little Havana. This neighborhood offers a taste of Cuba with its Cuban cafeterias and historic jazz clubs on Calle Ocho. A slice of Cuba away from Cuba; that's what makes it unique.
Discover Natural Wonders at Everglades National Park
South Florida is more than just beaches. The state boasts a diverse ecosystem best explored through Everglades National Park – one-of-a-kind swampy wilderness teeming with exotic flora and fauna.
If you're an animal lover, don't miss Monkey Jungle where monkeys roam free while humans stroll inside cages. Now isn't that something?
Key Takeaway:
Discover Miami's cultural richness and natural beauty through its top attractions. Sunbathe on South Beach, step into history at the Vizcaya Museum, get inspired by urban art in Wynwood Walls or immerse yourself in Cuban culture in Little Havana. Don't forget to explore Florida's diverse ecosystem at Everglades National Park for a complete Miami experience.
Embrace the Vibrant Culture at Little Havana
Experience a slice of Cuba right in Miami. From Cuban cafeterias to historic jazz clubs, Little Havana is a cultural hub not to be missed.
The neighborhood stands out with its unique style and architecture. But more than that, it's brimming with culture that hits all your senses.
Calle Ocho: The Beating Heart of Little Havana
You can't talk about Little Havana without mentioning Calle Ocho. This vibrant street is lined with colorful murals telling stories from the homeland left behind by many residents here.
Salsa music wafts from every corner – whether live or blaring from car radios as locals chat away on sidewalks in rapid-fire Spanish. And let's not forget those mouth-watering smells coming off grill tops at roadside cafeterias.
A Stroll Through Domino Park
In this bustling community hub known as Maximo Gomez Park (but affectionately referred to as Domino Park), retired gentlemen play heated games of dominos while discussing politics over cups of strong Cuban coffee.
This isn't just an ordinary park; rather, it's a snapshot into everyday life within this culturally rich enclave – providing insights beyond what any guidebook could give you.
Fiesta Time At Cultural Fridays
If your visit coincides with the last Friday of each month – lucky you. Viernes Culturales (Cultural Fridays) takes place then. It's like one big street party celebrating everything Cuban – art exhibits, music concerts, and traditional dances spill onto the streets for everyone to enjoy.
Viernes Culturales also gives you a chance to interact with artists and learn more about their work, making it a great place for souvenir shopping too.
A Treat For Your Taste Buds
The Cuban Sandwich – a succulent medley of pork, ham, Swiss cheese, and pickles awaits your taste buds. It's a flavor-packed delight that brings folks together over shared plates and laughter.
Key Takeaway:
Dive into the rich Cuban culture of Little Havana. Explore its vibrant heart at Calle Ocho, immerse in local life at Domino Park, celebrate with locals during Cultural Fridays, and savor mouth-watering cuisine. It's more than just a visit – it's an unforgettable cultural experience.
Discover Natural Wonders at Everglades National Park
If you're eager to explore the diverse flora and fauna of South Florida, there's no better place than Everglades National Park. This unique ecosystem will give you a taste of wilderness like nowhere else.
An Immersive Primate Experience at Monkey Jungle
While in the park, don't miss out on an immersive primate experience. At Monkey Jungle, you'll get a chance to stroll through cages while monkeys roam free around you. Experience a unique occasion where nature takes the spotlight.
The sights and sounds here are truly unmatched – from spotting rare bird species nestled among the trees to hearing distant alligator growls echoing across swamps. But it doesn't stop with wildlife; plant lovers will also be thrilled by the diversity of vegetation within this sprawling national park.
Much more than just a swampy landscape, the Everglades is home to mangrove forests and freshwater sloughs too. If you're lucky enough, your visit might coincide with blooming seasons when colorful wildflowers blanket entire meadows, creating spectacular vistas worth capturing.
Beyond its biodiversity though, what sets Everglades apart is its commitment to preserving these treasures for future generations. As part of conservation efforts numerous ranger-led programs such as tram tours or guided canoe trips are available throughout the year, giving visitors an opportunity not only to appreciate beauty but also understand the significance each element plays within a larger ecosystem structure – indeed quite eye-opening.
Paddling Adventures Await You.
If adventure floats your boat (pun intended), then paddling along one of many water trails should definitely make it onto your itinerary. Kayaking amidst lush greenery under clear blue skies offers an unparalleled perspective of the Everglades' ecological wonders. Plus, it's a great way to keep active while immersing in nature.
But if you prefer something less strenuous yet equally rewarding, then hop on one of the many boat tours that take you deep into the park's waterways, where alligators sunbathe nonchalantly and manatees swim leisurely – truly a sight to behold.
Key Takeaway:
Everglades National Park is a South Florida treasure, showcasing diverse flora and fauna that make for an unforgettable adventure. Whether you're strolling amidst free-roaming monkeys at Monkey Jungle or exploring mangrove forests, every experience is unique. Join ranger-led programs to learn about the park's conservation efforts, or embrace the thrill of kayaking along water trails.
Indulge in Retail Therapy at Bayside Marketplace
Miami is a shopper's paradise, with the Bayside Marketplace standing as a shining jewel among its many retail treasures. Located at the edge of Biscayne Bay, with a view of its waters, Bayside Marketplace offers stunning scenery along with an array of shops and eateries.
The Bustling Atmosphere of Bayside Marketplace
This open-air market boasts more than 150 shops and eateries. From high-end brands to local artisan goods, there's something for everyone here. But that's not all – foodies can indulge in Miami's diverse culinary scene while taking breaks from their shopping sprees.
You'll find Cuban cafés next to seafood restaurants and burger joints – an eclectic mix reflective of South Florida's melting pot culture. Listen to the tunes of live music throughout your visit, and you'll feel like you're attending a celebration instead of just shopping.
The Designer Boutiques of Design District
If your idea of retail therapy leans towards luxury fashion houses and designer boutiques, then make sure to visit Miami's renowned Design District. This upscale area has transformed into one of South Florida's premier vacation destinations for luxury shoppers.
In addition to top-tier fashion outlets like Prada or Louis Vuitton, this district is also home to cutting-edge art galleries featuring contemporary works from emerging artists around the globe. As such, walking through this neighborhood feels like stepping inside an outdoor museum where style meets creativity.
Limo Tours: The Chicest Way To Shop In Miami
What if I said there was an even more amazing option? Picture yourself hopping between these fantastic shopping locations without worrying about parking or traffic. How? By booking a limo tour. It's an unforgettable way to explore Miami, allowing you to travel in style and comfort while visiting these top-rated tourist attractions.
This not only amps up your shopping game but also lets you soak in Miami's stunning beaches and classic art deco structures. Trust me, hopping from one retail paradise to another has never been this splendid.
Key Takeaway:
Don't miss the chance to see Miami's shopping landscape in a whole new light. Plunge into the lively atmosphere of Bayside Marketplace, home to more than 150 stores and an exciting array of eateries. If you're all about luxury, head over to the Design District for top-tier fashion brands and cutting-edge art galleries. And for that extra special touch? Take a limo tour. It's a fantastic way to explore these shopper's heavens comfortably while enjoying breathtaking views.
Dive into Science at the Patricia Frost Museum
Ignite your curiosity at the Patricia Frost Museum of Science, featuring exhibits on coral reefs, mammoths, and the history of flight.
Coral Reefs, Mammoths, and Flight – Oh My.
The museum features a plethora of exhibits that pique curiosity and ignite passion for learning. You'll discover the fascinating history behind mammoth evolution as well as immerse yourself in the vibrant lifeforms inhabiting coral reefs.
If you've ever wondered how it feels to fly, look no further. The museum also houses an exhibit detailing the riveting journey from mankind's first attempts at flight up until today's sophisticated aircrafts.
Miami Science Made Accessible
A trip to this science haven isn't just about feeding your mind; it also feeds your spirit with its dedication to making scientific knowledge accessible and engaging. Not only does it encourage exploration through hands-on displays, but it also promotes understanding via detailed explanations suited even for those without prior knowledge of these topics.
Visiting such places can spark questions you never thought you'd ask before. This newfound interest might make you want more. If so, why not take a limo tour around other must-visit attractions?
Limo Services Miami offers tours tailored perfectly for people who love learning while luxuriating in comfort. So after diving deep into science at Patricia Frost Museum, perhaps venture next towards art deco buildings or Everglades National Park?
Note:
The Patricia Frost Museum of Science has a wide range of exhibits including those about coral reefs, mammoths, and the history of flight.
The museum aims to make scientific knowledge accessible to all. Even if you don't have prior experience or understanding of these topics, it's easy to learn thanks to their engaging displays and clear explanations.
Why hold back? Kick off your adventure today. Remember, the museum welcomes visitors daily.
Key Takeaway:
Ignite your passion for learning at the Patricia Frost Museum of Science. With exhibits on coral reefs, mammoths, and flight history that are both engaging and accessible to all, you're bound to discover something new. After feeding your mind with science, why not continue exploring Miami's attractions in style with Limo Services Miami?
Experience Miami from a Different Perspective with Limo Tours
You've seen Miami's stunning beaches, but have you experienced its glitz and glamour from the comfort of a limo? There's nothing quite like cruising down Ocean Drive in style.
A limo tour offers an unforgettable way to see the city. You'll get to relax while taking in views of iconic spots such as Vizcaya Museum, Wynwood Walls, and South Beach.
Luxury Meets Adventure: The Magic City Awaits
Start your journey at Vizcaya Museum – a bayfront mansion boasting European-inspired gardens and art collections that rival those found across the Atlantic. Next up is Wynwood Walls; this outdoor museum showcases vibrant murals by some of today's top urban artists.
No trip would be complete without soaking up the sun on South Beach. It's known for beautiful Art Deco buildings, lively atmosphere, and great weather – it really captures what Miami is all about.
The Perks Of A Guided Tour In Style
Taking one of these tours means you don't need to worry about navigating traffic or finding parking spaces – just sit back and enjoy. And if there are specific places you want to visit during your limousine ride around town (like checking out Florida's premier vacation destinations), they can tailor-make your itinerary accordingly.
This guided tour also lets you bypass long lines at popular tourist attractions. So whether it's Fairchild Tropical Botanic Garden or Coral Castle rock quarry that piques your interest – expect VIP treatment.
Bask In Comfort As You Explore Miami
Miami has warm weather year-round thanks to its prime location alongside the Atlantic Ocean and Biscayne Bay. So why not explore it in air-conditioned comfort? Whether you're here for a vacation or a local just looking to see your city from a new perspective, limo tours offer an experience like no other.
Not only do these luxurious vehicles give you unparalleled views of Miami's stunning skyline, but they also offer ample room. This makes them perfect for larger groups looking to explore the city in style.
Key Takeaway:
Discover Miami's glitz and glamour with an unforgettable limo tour. Kick back in luxury as you cruise by iconic sights like Vizcaya Museum, Wynwood Walls, and South Beach. Forget about traffic or parking – your guide will handle everything while you enjoy VIP access to popular attractions. Perfect for groups, explore the Magic City in air-conditioned comfort all day long.
FAQs in Relation to the Top 10 Must-Visit Attractions in Miami
What part of Miami is the most visited?
The bustling South Beach area tends to draw in the biggest crowds, thanks to its pristine beaches and lively nightlife.
What is the most popular thing about Miami?
Miami's vibrant culture, especially visible in places like Little Havana, along with its stunning beaches are top attractions for visitors.
How to see Miami in one day?
To get a good taste of Miami in a day, try exploring key spots like South Beach, Wynwood Walls, Vizcaya Museum and Gardens, and Bayside Marketplace.
Is 3 days enough to visit Miami?
A three-day trip can cover many highlights but may not fully delve into all that this diverse city has to offer. You might need more time if you want a deeper exploration.
Conclusion
So, you've uncovered the Top 10 Must-Visit Attractions in Miami. Ready to take the plunge into South Beach's azure waters? Excited for an immersive art experience at Wynwood Walls? Eager to explore the lush landscapes of Everglades National Park?
You now have a sense of what makes Miami such a unique vacation destination. The vibrant culture and history infused throughout every attraction is undeniable. From bayfront mansions like Vizcaya Museum to cultural hubs like Little Havana – it's clear why this city attracts countless visitors each year.
Remember, experiencing Miami isn't just about checking off places from your list; it's also about embracing its rhythm, savoring its flavors, and soaking up that tropical sunshine!
The Magic City awaits you with open arms – all set for exploration and discovery! Let your adventure begin…